2012 Canada Cup Participant Info
Welcome to the 2012 Canada Cup Championships hosted by the London Badgers Baseball Organization! We wish all teams the best of luck and hope you enjoy our beautiful city!
Please take the appropriate time to review the outline details regarding our championship so that your experience in London will be an enjoyable one.
TEAMS: (Players, Coaches and Team Officials)
Teams must arrive in London by 4:00pm on Tuesday, August 7th, 2012.
There will be a "Welcome Reception" at 6:00 p.m. at the Greek Canadian Club for all participants and officials. Buses will leave Essex Hall at 5:30pm sharp.
TEAM ACCOMODATIONS
All players, coaches and managers will be housed in the Essex Hall at the University of Western Ontario. Players will be housed 2 per room with each player receiving their own bed.
All arranged accommodations are for 7 nights from Tuesday August 7th to Tuesday August 14th. Teams that choose to arrive prior to August 7th or stay after August 14th are responsible for the extra costs incurred. Teams are required to contact Gary Curgin at 1-800-433-6677 Ext. 330 to book your rooms. A full rooming list will be required.
All meals are the responsibility of each player, coach and manager. Please note there is a buffet style meal plan available at Perth Hall for $43.00 per participant and can be booked through Gary Curigan as well. Attached are examples of meals that are provided.
TRANSPORTATION
We encourage all teams and officials to fly into London International Airport to enable us to provide you with transportation from London International Airport to the Hotel. Buses will transport all teams and coaching staff from the airport to their accommodation at the Hotel. Please contact Mike Lumley to advise of arrival and departure times. (519-619-6792 or mlumley@execulink.com)
If you wish to fly into Toronto you can call Gary Curigan at 1-800-304-6346 Ext. 300 to set up transportation from Toronto to London.
MEETINGS
The Pre-Championship Meeting is at 7:00 p.m. on Tuesday, August 7th at the Greek Canadian Club. Each team is permitted to send three (3) coaches per team and their provincial representative.

UMPIRES
Umpires should arrive in London by 4:00 p.m. on August 7th, 2012.
Umpires are asked to be at the Welcome Event on Wednesday August 7th, 2012 at 6:00 p.m. at the Greek Canadian Club. Shuttle bus will take the umpires from their accommodation (5:20pm sharp) to the event and from the event back to the hotel.
Accommodations for Umpires has also been arranged at The London Delta Armouries. There will be two umpires per room. Accommodations are available and paid by the host committees from August 7th to August 14th (7 nights). If departing prior to the 30th, please advise one of the Co-Chairs.
Umpires will receive a Meal Per Diem from the Host Committee upon arrival at the championship.
Individual umpires must arrange and cover costs for earlier arrival and later departures. Contact information for the London Delta Armouries is below (Umpires will be pre-booked into their rooms by the host committee).Should you require additional nights please contact the hotel directly at 1-800-668-9999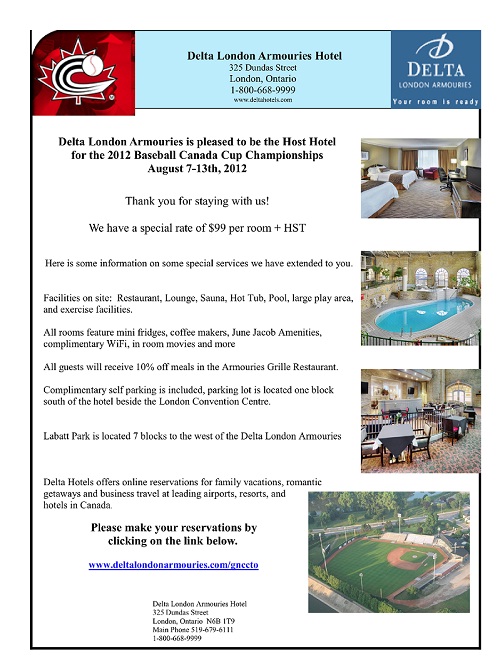 Transportation has been arranged to and from the airport and during the championship for all umpires and teams. Please advise the Tournament Chair if you will be traveling in your own car and will not require this service.
FIELD LOCATIONS
Games will be played at North Americas Oldest Ball Park – Labatt Memorial Park and Dan Pulham Memorial Field. Practice field will be available upon request and will be held at Aldridge Field. Please call or E-Mail Mike Lumley to book your times (519-619-6792 or mikelumley@rogers.com
Labatt Park: 25 Wilson Ave. London, ON
Dan Pulham Memorial Field: 815 Windermere Rd, London, ON
Aldridge Field: 1221 Sandford St. London, ON